Williams Centre Furnished Condo-Tucson Furnished Housing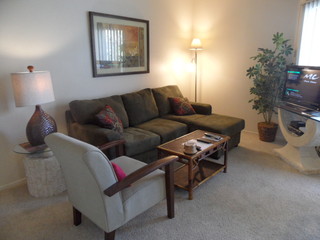 Location:
Williams Centre
Amongst the many attributes this community offers, the convenience for dining, shopping, commute and comfortable lifestyle makes it one of Tucson's most desirable condo communities for short term furnished housing.
Offering a resort style pool and spa, and an amply supplied fitness room, The Condos at William's Centre ranks as a top notch location for Tucson furnished housing!
This condo features a nicely furnished floorplan, two bedrooms and two bathrooms, with a balcony overlooking the pool and grassy area! A Queen bed in each bedroom offers a quality night's rest for up to 4 guests. Utilities are inclusive of the monthly rate, and consists of: electric (a cap of $150 will apply to the electric), basic cable, local phone and internet, which includes wireless internet, too! See the pictures below and call a representative at Suntree Corporate Housing to reserve this condo for yourupcoming stay in Tucson! 1-866-88- CONDO (2-6636)


Suntree Corporate Housing

Rental Rate:
$4,000.00 per month
Availability:
Please call for availability and seasonal pricing, as rates do adjust.
Other Information:
Professionally managed by Suntree Corporate HousingJason Mayer, Broker
Payment Methods:
Visa, MasterCard, Cash, Check, Money Order, Other
5400 East William's Boulevard
Tucson, AZ 85711
View Map
ID#: 65645154
Location: Tucson, AZ , 85711
Address: 5400 East William's Boulevard, Tucson, AZ, 85711, US
Rent: $4,000

Bedrooms: 2
Bathrooms: 2
Square Feet: 1,000