+ CENTRAL Used Car/Truck or RV LOT/ 4 Sale or Rent $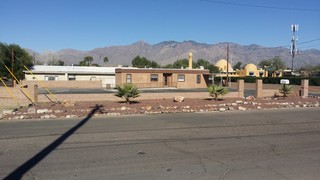 Location:
Tucson, AZ
• 3101 E. Prince Road, Tucson, AZ Northeast Corner of Prince and Country Club Roads, Tucson, AZ
A well known central used car lot in existence for over 50 years; generating handsome profits for many differing types of dealerships! Whether your market is low end bread n butter type units, or the upper end Porche, Mercedes, Ferrari's, this lot has it ALL+
Purchase a high traffic/exposure used car lot that has been in operations for over 50-years and counting.... Corner location including sale office. Enjoy a meal or cold drink next door at Shooters while closing your next car sale!
• Pick your friendly staff and stock the lot for a Strong upcoming 1st Q., 2019....and enjoy the 4-way STOP traffic from higher income earners living in the area. Freshly paved and striped, ready to re open asap. Close to Tucson Racket club and many other businesses. Ideal # of units on the lot is 45-55 cars. Freshly re paved with newer block fencing borders the lot perfectly+
• Tax parcel: 111-02-031E (more info. from the Pima Assessor)
Comes with a fully functional sales office 12' x 52' metal modular that's been professionally set on site with heat/cooling electric system. No gas needed.
Come on by and walk the lot and preview for yourselves…. Tenant just vacated.
$1,800.00 per month Rental rate OBO
Deposit: $3,600.00 OAC
OR purchase the property for $200,000. Cash only. No Seller financing.
Calls or text preferred. 520-275-0130 "Deeds"
Property owned and managed directly by the LLC manager (l-19 Vacquero).
Visit us: www.Deedtrader.com
3101 E. Prince Road
Tucson, AZ 85716
View Map
Utilities:
Power, water, sewer/trash
All information in this site is deemed reliable but is not guaranteed and is subject to change
Price: $200,000
Square Feet: 624